Ahero: Urban Change Project Set for Launch
Aug 15 2019, Kenya
Having set up litter bins, constructed drainage and raised public awareness on waste, Ahero Town in Kisumu County is raising its ambition in creating a clean town for all, while promoting revenue generation.
The stage is set for tomorrow's official launch of phase two of the SymbioCity project, by Kisumu Governor Professor Nyong'o in the company of high powered delegation from the Council of Governors, SymbioCity pilot Counties, local political leaders, County top officials and stakeholders of Ahero town.
The move comes after completion of the phase one, referred to as the Quick Win project, which comprised of drainage construction, putting up litter bins in town, and training Volunteer Champions on waste management. The latter are charged with the responsibility of sensitising the community on the project benefits and advocating for effective community involvement to foster project ownership.
Phase two, also dubbed the Change Project, focuses on solid waste management and improvement of the drainage system within the market. Solutions will be geared towards the reduction of pollution to Nyando River and also improving the livelihoods of locals by creating opportunities for the youth to engage in economic activities.
Anticipated results include:
the market area being free of solid and liquid waste allowing traders to sell their products in a clean and safe environment;
the park will provide a recreation space for all the locals and visitors of Ahero;
innovative waste management and setting up of the compost pit will provide opportunity for locals to engage in income generating activities;
the construction of modern stalls along the highway in the market area, will provide a more conducive business environment for the pro-poor and increase the revenue base for the county government.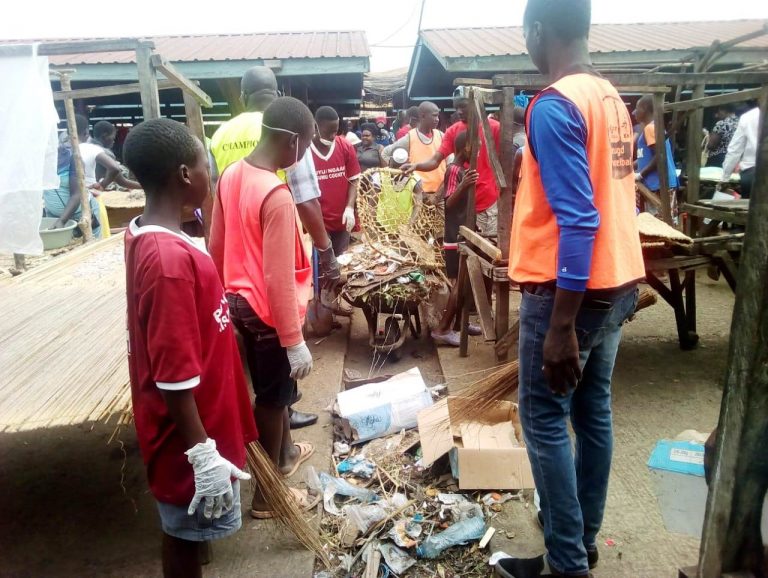 The football matches were held in Onjiko Primary school yesterday in the afternoon after a clean-up exercise in the market area during morning hours.
The teams that participated comprised of girls and boys. The first round was the boys of Kasuna Vs Vasco FC where they had a draw of Nil- Nil, later Vasco FC thrashed Kasuna on a 5-4 win on penalties. In the second match Korea team beat Oketha at 1-Nil and for the girls team, they had a draw of 1-1 and later Obama beat Kasuna Girls on penalties at 4-3 goals.
The finals are scheduled for tomorrow during the official launch of the change projects where the winners will be awarded. Also, a major clean-up of Ahero town has also been scheduled as a climax to the launch of the change project.
The original version of this article by Emily Mikwa was first published in the County Government of Kisumu's website.
Photo: Local football clubs, environmental champions, and the Technical Working Group cleaning Ahero market.